Sculling - It's 'A Bahamian Thing'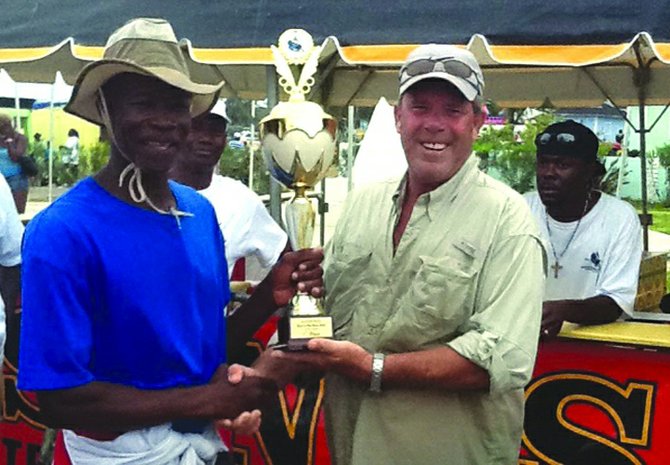 By BRENT STUBBS
Senior Sports Reporter
JOSH Green showed why he is considered one of the top sailors in the country.
Green dominated the Bahamian Brewery & Beverage Company's 'Man in the Boat' event that was held as a part of the National Family Island Regatta in Elizabeth Harbour in Georgetown, Exuma, last weekend.
It was the second Family Island stop for Bahamian Brewery as they reintroduced the "art of sculling" with the four boats named after their products - Sands, Sands Light, Strong Back Stout and High Rock.
In the series of one-man "sculling" races, Green took first place on High Rock over a field that included Richard Ross, the second place finisher (Sands Beer) and David Rolle, who came through in third (Strong Back).
James 'Jimmy' Sands, president of Bahamian Brewery & Beverage Company, said the event is catching on and they are looking forward to the future.
"A lot of the older fellows are apprehensive in entering the event but once they see this event take place more often, they will come out of their shell and participate," he...(read more)
Created by: Blas Ingraham
Tuesday, May 15, 2012

Truly Bahamian Beer goes Down Under!
The Bahamas – There's nothing like a 'Strong Back' or a 'Sands' especially when former world number one Australian professional tennis player Lleyton Hewitt wear's your brand's t-shirt at an International press conference.
"It's the best thing! We were overwhelmed when we were sent pictures of Hewitt wearing our shirts on tour" said CEO James 'Jimmy' Sands. "It's a huge honour to have such an acclaimed athlete sporting our paraphernalia and giving us such great international exposure for our products. Plus, he also promoted our country to millions of viewers, that's just an extra bonus!"
According to the Australian Herald Sun, "Hewitt, Australia's great survivor, has donned the "Strong Back" and "Sands" brands on his chest, ……
 they are both beers. And beers of choice for Hewitt, who lives in the paradise where the brews are concocted."
Hewitt, who was interviewed during the Australian Open, sported the Bahamian Brewery and Beverage companies 'man in the boat' logo for on court interviews and the company's Strong Back t-shirt for pressroom coverage. Hewitt suffered a terrible toe injury last year and is making a comeback. Hewitt...(read more)
Created by: Sarah
Tuesday, April 17, 2012